Some basic guidelines to think about while applying for a YAC Grant:
Does your grant fill an unmet need? The YAC looks favorably upon grants which provide new or sustained opportunities for youth in our community.

Is your target population well defined? Who will your grant affect? How many? In what ways? The YAC generally looks favorably upon projects that serve a large audience of youth; however well defined quality projects that benefit a smaller audience are also considered.

Does your grant-writing process involve youth? Can you show that youth have a vested interest in the project? The YAC looks favorably upon grants that include letters of support by youth, surveys, or evidence of youth focus groups. Ideally, projects initiated and grants written by youth themselves are preferable.

Does your project have community support? Do your letters of support show direct relevance to the project? Do your letters of support come from variety of stakeholders? The YAC looks favorably on letters that enhance The Committee's understanding of the project. Each letter of support should specify the author's own involvement or the impact this project will have on them or their organization.

Are partnerships and collaborations with other individuals or organizations described in your grant? What community resources will be involved in the project and how? The YAC looks favorably upon projects that bring multiple organizations and people together for a common goal.

Is your project self-sustaining? The YAC guidelines state that the YAC can only fund a specific project once. Continual grant requests for the same projects will not be funded. The YAC is not a source of continual funding.

Is your project goal well defined? The YAC looks favorably upon grants that are definitive in their requests. The narrative section should adequately detail the purpose of the project.

Is your budget well defined? Specificity is especially important in the budget portion of the grant application. For example, be certain to specify how the funds are to be used, particularly those in the line item labeled "Other."

There are certain things that the YAC does not fund. These include personnel salaries and transportation for field trips, however we will consider funding for registration or admission fees. The YAC generally does not fund operating expenses.

Have you made other attempts to secure additional sources of funding? The YAC looks favorably upon projects where the stakeholders have pursued other funds such as through fundraisers, donations, or other grants.

Is your grant clearly written and legible? A well-edited and neat grant shows that the grant writer has pride in the project. The YAC also welcomes a reasonable number of visual aids that enhance the committee's understanding of the grant, such as photographs, pamphlets, or other non-electronic aids. However, visual aids should be relevant to the project.
Application Forms
Grant Presentations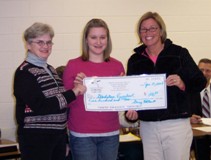 2/15/08
YAC Advisor Alice Butch and YAC Member Ashley Thomas present $500 grant to Ms. Peggy Austin, Gladstone Preschool Director and teacher. The $500 grant will sponsor one month of Preschool for the 27 children currently enrolled.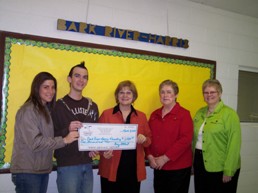 3/31/08
Representing the Community Foundation For Delta County, Renee Urbanc, Historian for the Youth Advisory Committee (YAC) and Kurt VanEnkevort, (2007-2008) YAC President and Board of Trustee member are shown presenting a $1,000.00 check to Bark River Harris Elementary teachers Ms. Carol Beck, 3rd Grade teacher, Ms. Kittie Bone, 4th Grade teacher and Ms. Karen Erva, 3rd Grade teacher. The teachers accepted the grant for the Accelerated Reading Project for Bark River-Harris elementary students.